My dad Glassell Stringfellow died March 19, 2005 In Denver, Colorado.
We know almost nothing a about his military service during WW II and
the Korean War. But will certainly contribute anything we may learn.
Thank you very much, Leslie Haydel

Please send any information to the webmaster to relay to the children. Email address is at the bottom of this Page
On a tea break is the CO of the 714th Bombardment Sq and his Executive Officer (Adjutant) Jim Chancellor.There must be a plate of Crumpets nearby.
G. Stringfellow &J. Chancellor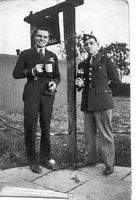 W.Schomoyer
Below is a picture of Stringfellows Crew or OR staff-- at Sioux City IA in 1943. Are you pictured or do you know anyone in the picture. Wendy may be contacted at

Wwschmoyer@aol.com

or inform me at webmaster link below.
stringfellow crew Sioux City IA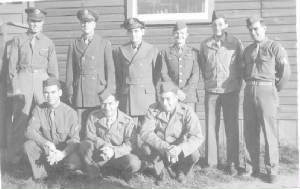 W.Schmoyer
Everett G Barry
Wendy Schomoyer would appreciate contact with anyone who knew father. His name was Everett G. Barry ASN32761512.Inducted 2/1/43 and was discharged 10/7/45.He was an Administrative Specialist.He departed for the ETO 11/23/43 and arrived 11/29/43. She would like to know what the sign at their head said. I recall we were the only Squadron that had a sign. I have forgotten the reading but assume it had something to do with the 714th Hdq.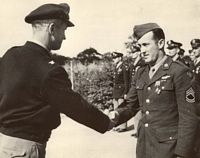 According to his records he also flew combat missions At the left is a picture of him being awarded a combat medal and below-- a group he is believed to have flown with. Mr. Stringfellow recognizes Barry, Snow and Chancellor. Can you help Identify the others. The wall I only recall seeing one time. On that date I picked up a copy of The Stars and Stripes headlines --GLEN MILLER MISSING
Sgt Barry My Father-back middle row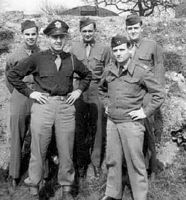 W Schomoyer