OUR HONEY & CREW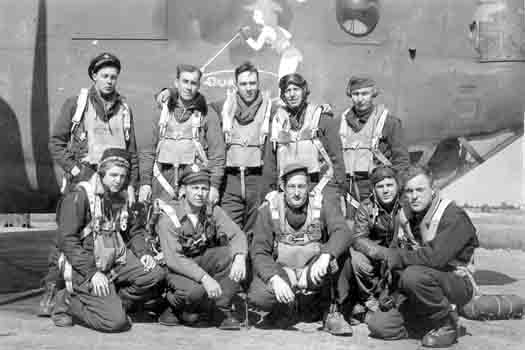 David McCullough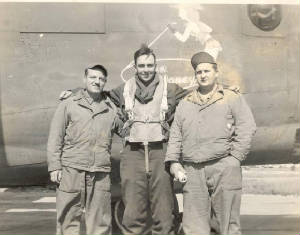 david Mccullogh
04 Nov 04 UPDATE
Plane and crew is from the 715th Bomb Squadron, 448 BG

Standing (L-R)

*Right Waist Gunner: SSG Joseph Yates
Left Waist Gunner: SSG William Newell
Tail Gunner: SSG T.K. Murphy *** Guy in 2nd picture with Mechanics
Nose Gunner: SSG W. Parks
*Radio Operator: TSG James McLaughlin

Sitting (L-R)

*Bombardier: 2LT Ralph F. O'Neil
*Pilot: 2LT Frank Genarlsky
*Co-Pilot: 2LT Albert A. Pempek ** My Great-Uncle
*Engineer: T/Sgt Paul Novichenk
*Navigator: 2LT William A. Ford

This Aircraft number is 42-50820, which was shot down on 6 November 1944 en route to Minden, Germany. (A gentleman on the webpage was looking for info on this crew, but his email link did not work) the men with asteriks before their name were on that crew, along with:

Left Waist Gunner: SSG Lewis E. McMahan
Tail Turret: SSG Albert P. Cole
Nose Turret: 2LT Alton L. Kraft

The plane took flak in the #2 engine, they jettisoned 2 of the 3 1000 lb bombs and turned towards England. Not long after, they attempted to land outside Billerbeck. The plane clipped a telephone pole and crash, setting off the bomb that wasn't jettisoned. The crew was buried in a mass grave. In 1949, their remains were brought back to the states and interned in Rock Island National Cemetery.

If you require more details on anything please let me know.

Respectfully,

Cadet Kyle J. Hatzinger
USCC B-2
USMA 2006

--------------------------------------------------------------------------------
I saw this listing of personnel, and thought I would check it against my Master Copy of
US Army Graves Registery. if all the names were of the same crew...the final resting
place is not the same for all. Since there were no service numbers listed, the names
that were listed at the orginal burial site were used.

Hope this is of some help.
Terence (aka F5G6 member B24bestweb.)

Interesting to note they were all temporarily buried at the same place prior to
transfer to permanent burial site's..their orginal burial site was:Nueville-En-Condroz
Cemetery, Liege, Belgium.

Cole, Albert P. S/Sgt #12228133
Ford, William A., 2nd.Lt. #0-717420
Genarlsky, Frank R. 1st.Lt. #0-886510
Kraft, Alton L. 1st.Lt. #0-702055
McLaughlin, James W. T/Sgt #32440514
McMahan, E. Lewis. S/Sgt #18182755
Novichenk, Paul T/Sgt #15323363
Pempek, Albert A. 2nd.Lt. #0-699905
Yates, Joseph A. S/Sgt #37502761
Final resting place "Rock Island National Cemetery, Rock Island, Illinois"
---------------------
Orginal burial site was: Nueville-En-Condroz Cemetery, Liege, Belgium.
Parks,William J. T/Sgt. #14114961, final resting plane somewhere in the state of Alabama.

Murphy, T.K. S/Sgt (could find no listing,)

Orginal burial site was: St.Andre Cemetery, Evreux, France.
Newell, William R. S/Sgt #16035979, final resting place St.Laurent (Permanent Cemetery),
St. Laurent, France. Plot "B", Row "7", Grave# "32"
By clicking the above line you will make contact Via email with the owner of "B24 Best Web" D. Stockton; HQ Kennedy owner of the "Harold's Tribute to the 448th BGp Crew 48" and David McCullough owber of the pix on OUR HONEY a B 24 of the 713th Bombardment Squadron (H) WW 2. Any information you can provide would be appreciated.

To "Harold's Tribute to 448thBGp Crew48"
* Please bear with the adds.

Most will be military related.

It pay's Lycos for the

Free Space.--Webmaster
24 MAY 2005