DATE /TARGET /FLIGHT HOURS
| | |
| --- | --- |
| 12/24/43 LaBroyne, FRA 5.0 | 12/31/43 LaRochelle, FRA 9.4 |
| 1/14/44 St Pierre, FRA 4.5 | 1/21/44 Ray-Sur Authe,Fra4.4 |
| 1/30/44 Brunswick, GER 6.6 | |
| | |
| | |
| 3/2/44 Frankfurt Ger. 7.5 | 3/5/44 Mont-de-Marsan, FRA 9.2 |
| | |
| | 3/26/44 Muyenville, FRA 4.7 |
| | 4/8/44 Brunswick, GER 4.7 |
| | 4/11/44 Bernburg, GER 6.8 |
| 4/13/44 Ober Pfaffenhoffen, GER 8.7 | |
| 4/26/44 Paderburn, Ger 6.3 | |
| | |
| 5/22/44 Siracourt, FRA 4.1 | |
| 5/28/44 Merseburg, GER 7.0 | |
Thought you might get a kick out of seeing my father's club card and bicycle permit from Seething AAF. You might also recognize some of the brass in the photo. They were waiting on one of the flight officers to come back from his last mission
Bicycle Permit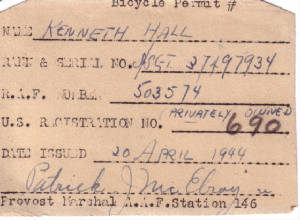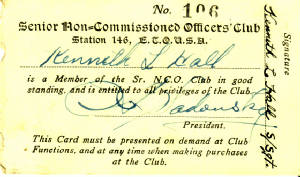 Comment by Webmaster--I recall being in the NCO club on two Occasions One with our crew the other a dance was held for completion of the groups missions at the hundredth mark or two hundredth I have forgotten .Truck loads of girls from a Naval Base at Great Yarmouth were in attendance. I recall promising one little redhead I would come visit her. I never did keep that promise.---- The bicycle permit I'm in trouble. I had a bicycle but I do not recall getting a permit. I left it with an English Lass that lived near a PUB I visited often in Norwich.The first time I met her I almost got myself into trouble because I demanded all present shut up and let her sing Bing Crosby's version of "Swinging On A Star". She was good. From that time on patrons requested her to sing when we visited that Pub.
Sweating Out Return Of a F/O on his Final Missiom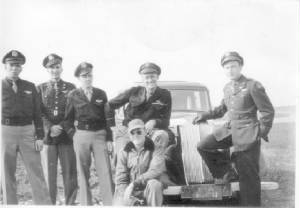 mack hull

To "Harold's Tribute to 448thBGp Crew48"
* Please bear with the adds.

Most will be military related.

It pay's Lycos for the

Free Space.--Webmaster
24 MAY 2005