Paul C Davis crew 108
Crew 108 715th BSq 448th BGp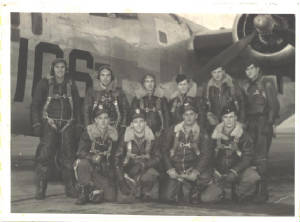 My cousins mother, Uncle Pauls widow, passed away a few days ago. I talked to my cousin
about her father in WWII, This is what I have now on Paul B. Davis.

-Born in Knoxville, Tennessee

-Married Frances Hill during the war.

-April 2, 1945 to 715th Squadron (Replacement Crew)
2nd Lt.William O.Whetsell P 0835306
F/O James Beadling CP T133671
2nd Lt. Lawrence C.Taylor N 02069157
2nd Lt. James E. Muenker B 0785206
Cpl Roy H. Bassler 31328988
Cpl Paul B. Davis 14159877
Cpl William T. Hall Jr 18242578
Cpl Robert S. Peterson 11139116
Cpl Robert W. Putney 36645347
Cpl William A. Sloan Jr 34657359
-B-24 was named the "Wazzel Dazzel" William Whetsell and Paul Davis
both had wives
expecting babies and this inspired the nose art.
Crew 108 Listing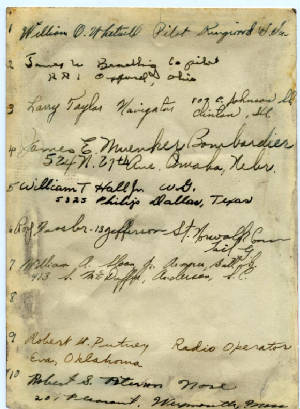 My cousin loaned the second photo album to me, I'll forward the more
interesting photos to
you. A nice aerial photo of the 448th barracks. (below right)
I did make contact with the family of
the late Pilot Lt. William Whetsell. The nose art (Stork) was inspired by both William Whetsell and Paul Davis both having wives expecting babies. After over
60 years of no contact between Paul and William, both being from different parts of the country, the two
babies now live within a few miles of each other in East Tennessee and didn't know it.

Crew in jeep for transport